Nature–ETN: Nucleic Acids for Future Gene Editing, Immunotherapy and Epigenetic Sequence Modification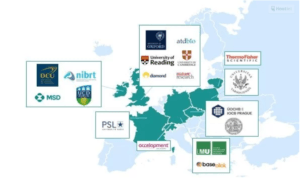 Partners: Dublin City University, University PSL (Paris Sciences & Lettres), University of Reading, University of Warsaw, baseclick,  Institute of Organic Chemistry and Biochemistry Academy of Sciences of the Czech Republic, Ludwig-Maximilians-Universität München, University of Oxford, ATDbio, and NIBRT.
"NATURE", led by SSPC FI and Dublin City University professor, Andrew Kellett, has forged a new integrated network of 10 industry-academia partners, which trains 15 early-stage researchers (ESRs) using cutting-edge resources at leading research facilities, universities, and biopharmaceutical enterprises throughout the EU. The focus of the training is in the area of Nucleic acid (NA) therapies, a technology that represents major advances in the treatment of human diseases.
Four of the 15 ESR's were recruited by DCU & NIBRT and will be awarded PhDs by these institutions (NIBRT via UCD). Supervisors Prof. Andrew Kellett and Prof. Niall Barron with co-supervision from University of Oxford, University of Reading, LMU (Ludwig-Maximilian University Munich) and Ecole Nationale Superieure de Chimie de Paris.  Similarly, co-supervision is being provided by DCU and NIBRT/UCD academic staff for the ESR's at Oxford, Reading, Munich, Warsaw, Prague and Paris.
ESRs are exposed to and do short secondments in industry and research organisations across Europe with emphasis on the 3 I's, International, Inter-sectoral and Inter-disciplinary. MSD Carlow, DCU and NIBRT/UCD will second ESRs from both the Irish and non-Irish partner institutions. The DCU and NIBRT/UCD ESRs are doing secondments in ATDBIO LIMITED UK, BASECLICK GMBH Germany, USTAV ORGANICKE CHEMIE, Czechia.
Nucleic acid (NA) therapeutics are expected to yield major advances in the treatment of human diseases, especially cancer. As NAs behave in a fundamentally different way than the small molecules traditionally forming the backbone of drug formulation, recent advances, such as gene editing, cancer immunotherapy, and epigenetic base manipulation overcome the limitations otherwise inherent to NAs.
Specifically the research projects being undertaken by the ESR's are focusing on:
Extending the boundaries of gene editing technologies: CRISPR sgRNA strands are being engineered for light-controlled activation and live-cell imaging. A new route to gene editing using TFO hybrids is being pioneered and studied by X-ray crystallography.
Developing therapeutic oligonucleotides for cancer immunotherapy: Manipulation of T-cells for CAR-T immunotherapy is being undertaken with cGAMP and therapeutic mRNAs; recent discoveries with engineered polymerases are being applied.
Sequencing and imaging of epigenetic bases: New methods for epigenetic base oxidation are being applied to mainstream sequencing technologies.
This new and fast growing field underpins Ireland's and Europe's biotechnology and pharmaceutical industries where highly qualified experts in nucleic acid chemistry, biomaterials development and chemical biology are required. The ESRs trained within NATURE-ETN will acquire the necessary knowledge and skillset to fill high-functioning industry jobs, but also to maintain and advance Ireland's and Europe's competitiveness and innovation capacity.
In addition to the performance of the specific research projects, training will be provided under three generic headings as follows:
SCIENTIFIC MODULES (Key techniques, technologies and theories in the field of chemical synthesis, biochemistry and cell biology);
BUSINESS MODULES (Modules on Quality Management, Entrepreneurship, Intellectual Property Management and Business Plans); TRANSFERABLE SKILLS (Ethics and research management, career planning, science communication and grant writing).
The NATURE ETN commenced in late 2020 and is expected to be complete by the end of 2024.
Publications from the Kellett group at Dublin City University in Nucleic Acids Research and Angewandte Chemie in collaboration with Tom Brown, Oxford University:
Alex Gibney, Raphael E. F. de Paiva, Vandana Singh, Robert Fox, Damien Thompson, Joseph Hennessy, Creina Slator, Christine McKenzie, Pegah Johansson, Vickie McKee, Fredrik Westerlund, Andrew Kellett, A Click Chemistry-Based Artificial Metallo-Nuclease, Angew. Chem. Int. Ed. 2023, e202305759
Bethany Searle, Markus Müller, Thomas Carell, Andrew Kellett, Third Generation Sequencing of Epigenetic DNA, Angew. Chem. Int. Ed. 2023, 62, e202215704; Angew. Chem. 2023, 135, e202215704
Bríonna McGorman, Nicolò Zuin Fantoni, Sinéad O'Carroll, Anna Ziemele, Afaf H El-Sagheer, Tom Brown, Andrew Kellett, Enzymatic Synthesis of Chemical Nuclease Triplex-Forming Oligonucleotides with Gene-Silencing Applications, Nucleic Acids Research, 2022, Volume 50, Issue 10, Pages 5467–5481
Joseph Hennessy, Bríonna McGorman, Zara Molphy, Nicholas P. Farrell, Daniel Singleton, Tom Brown, Andrew Kellett, A Click Chemistry Approach to Targeted DNA Crosslinking with cis-Platinum(II)-Modified Triplex-Forming Oligonucleotides, Angew. Chem., 2022, Volume 61, Issue 3