Project Team: The collaboration includes Alkermes, Athlone, SSPC's team at the School of Pharmacy, University College Cork, and Pharmaceutical Manufacturing Technology Centre (PMTC) at the University of Limerick.
This industry-led project was devised by Stephen Sheehan, Principal Engineer and Claire O'Reilly, Senior Process Development Engineer at Alkermes, Athlone, who developed the project with Prof. Abina Crean and Dr David Egan. The project was funded through the Enterprise Ireland Innovation Partnership programme.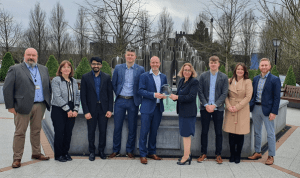 Pictured from left to right: Paul Hurley, (Director, Process Development, Alkermes), Mairead Fogarty, (Executive Director, Process Development, Alkermes), Raghu Peddapatla, (Process Excellence Lead, Pfizer), Ger Sheridan (Operation Support Specialist, Alexion Pharmaceuticals), Stephen Sheehan, (Principal Engineer, External Operations, Alkermes), Abina Crean, University College Cork, Conor Slevin, (Manufacturing Engineer III, Alexion Pharmaceuticals), Aisling Arthur, SSPC Industry Relations Manager and Mark Tawa, (Vice President, Pharmaceutical Development, Alkermes).
Platform Modelling Approach to support Tablet Development, Scale-up and Technology transfer
Project execution and reporting was led by Raghu Peddapatla (Postdoctoral Researcher at UCC), together with Ger Sheridan and Conor Slevin (MSc. Research students at UL, supervised by Dr D. Egan). The 3 recruited researchers were based at the Alkermes, Athlone for the project. Experimental runs were completed at the Alkermes sites at Athlone and Wilmington, and GEA Belgium.
The project was also supported by Shrikant Swaminathan, Alkermes Waltham, Zelalem Worku, Ivan Browning, Caoimhe Beirne, Alkermes Athlone and the wider production teams at Alkermes Athlone and Wilmington.
The Challenge
Challenges are encountered during the development and manufacture of commercial drug products. It is challenging to optimise formulations during early-stage formulation development to achieve maximum commercial output (tablets/year). From an operations perspective, the greater the output the better. A second challenge encountered is the ability to use studies generated on pilot scale equipment during scale-up development. It can be difficult to replicate the same conditions on both pilot and commercial scale equipment. As a result, studies that are completed on pilot equipment must be repeated at commercial scale, this duplicates work and thus creates inefficiencies.
Project Aims
With these challenge in mind, to reduce inefficiencies and thus streamline tech transfer & scale up activities the following project aims were devised.
To create a model than can predict commercial scale tableting performance using small scale blend data.
To create a model to understand the link between pilot & commercial scale equipment & generate a single design space that will encompass both sets of equipment.
This project was focused on a direct compression approach to tablet production. The formulation approach investigated in this project was an immediate release tablet formulation.
The Solution
The project developed models to predict commercial scale tableting performance using small-scale blend data, which can now be used to maximise production. For example, the models revealed that improving flow properties can more than double commercial production output. As highlighted Figure 1, a passable flow formulation if commercialised will have a maximum output on a Modul P tablet press of 132 million tablets/year. Having this knowledge early in the development phase means you can tweak your formulation to improve its flow properties. If you do, you will more than double your commercial output to 285 million tablets/year. If you can double your output, you could potentially double your revenue which obviously has massive implications from a business perspective.
Impact
Alkermes, now have the tools and capabilities to predict commercial scale performance during early-stage development activities. Applying the knowledge captured in the models early in the development phase means you can tweak your formulation to improve its flow properties and compaction on commercial scale-presses to maximise production. To date, models and knowledge developed during the project have been shared with Alkermes sites in Ireland and the US. The developed models currently inform the formulation and process design, plus scale-up to production tablet press models. It is envisaged the platform modelling approach developed can streamline tablet formulation/process development activities, decrease development time and cost, and decrease time to market.
The extent and complexity of experimental work conducted are impressive for a project of this budget and timeline. During the project, 6.5 million tablets were compressed in three different sites (Ireland, US and Belgium) and 20,000 tablets were tested all within budget and within the timelines.
"The collaborative research project with Alkermes has given us new capabilities that inform and streamline early development activities and enable us to predict future commercial performance. We are in the process of sharing this learning across Alkermes in Ireland and the US, and plan to integrate and apply the learnings into our commercial process." Stephen Sheehan, Director, External Development & Manufacturing
The modelling approaches employed have been published in two peer-reviewed research publications:
Peddapatla, R.V.G.; Sheridan, G.; Slevin, C.; Swaminathan, S.; Browning, I.; Reilly, C.O.; Worku, Z.A.; Egan, D.; Sheehan, S.; Crean, A.M. Process Model Approach to Predict Tablet Weight Variability for Direct Compression Formulations at Pilot and Production Scale. Pharmaceutics 2021, 13, 1–14
Raghu V. G. Peddapatla, Conor Slevin, Gerard Sheridan, Caoimhe Beirne , Shrikant Swaminathan, Ivan Browning , Clare O'Reilly , Zelalem A. Worku, David Egan, Stephen Sheehan and Abina M. Crean. Modelling the Compaction Step of a Platform Direct Compression Process. Pharmaceutics  2022, 14(4)
"Alkermes is delighted to be involved in a project that demonstrates an important collaboration between industry and academia capable of producing a practical and tangible business outcome. Such a collaboration serves to strengthen both parties and provides an example for future opportunities." Mark Tawa, Vice President, Pharmaceutical Development, Alkermes