Sorry, no people found for this search.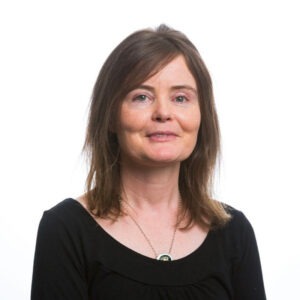 Assoc Prof. Susan Quinn
Funded Investigator Molecule
University College Dublin
Biography
Susan completed her PhD studies on the topic of DNA Programmed Assembly of Heterosupermolecules under the supervision of Prof. Donald Fitzmaurice at University College Dublin in 2002. After this she undertook a post doc with Prof. John M. Kelly and Prof. Thorfinnur Gunnlaugsson in Trinity College Dublin. After this she took a position as postgraduate course coordinator in the School of Chemistry in TCD, (2006-9) responsible for development and implementation of Dublin Chemistry Graduate programme.
In 2009 Susan was appointed as a temporary lecturer in the School of Chemistry in University College Dublin. In May 2012 Susan was appointed as a permanent member of academic staff and was promoted to Senior Lecturer/Associate Professor in October 2017. Susan together with Prof. John Kelly (TCD) and Professor Christine Cardin (Reading University), was awarded the 2016 RSC Rita and John Cornforth Medal is recognition of their structural work on DNA – transition metal complexes, proof of the origins of the "light-switch" effect and its implications for mechanisms of DNA damage DNA damage. The group's research aims to understand and apply the photophysical properties of biomolecules and functional nanomaterials. Specific focus is given to the use of molecular probes and nanoparticles to image, report and trigger DNA function with the view to trigger and monitor nucleic acid processes in complex systems through light activation.
Expertise
- DNA binding studies
- Synthesis of DNA probes
- DNA photochemistry
- Ultrafast spectroscopy
- Nanoparticle binding interactions
- Nanoparticle delivery
Publications