Sorry, no people found for this search.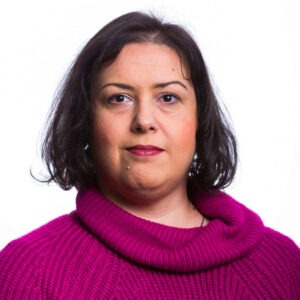 Dr. Constantina Papatriantafyllopoulou
Funded Investigator Materials
NUI Galway
Biography
Constantina is a lecturer in inorganic chemistry at NUI Galway since 2016 and she joined SSPC in May 2018 as a Funded Investigator. She completed her BSc degree at the University of Ioannina (Greece) and then moved to the University of Patras (Greece) and performed PhD research under the supervision of Professor Spyros P. Perlepes. After postdoctoral work with Prof. George Christou at the University of Florida, she was granted a Marie Curie fellowship and joined University of Cyprus in February 2011. Constantina's research focuses on the synthesis and characterisation of new metal-organic frameworks (MOFs), i.e. porous species based on inorganic building units linked through extended organic molecules, aiming at the development of efficient drug carriers and molecular sensors. Constantina has published over 70 papers in high impact international scientific journals, including publications in major international multi-disciplinary journals.
Expertise
- Crystallization processes
- Metal-organic frameworks
- Drug delivery
- Solid and liquid phase characterisation

Publications