Sorry, no people found for this search.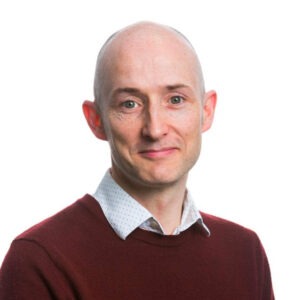 Dr Eoghan McGarrigle
Funded Investigator Molecule I
University College Dublin
Biography
Eoghan studied chemistry at UCD and obtained his PhD with Declan Gilheany in the area of M(salen)-mediated asymmetric epoxidation. He then carried out postdoctoral research, developing a method for the synthesis of P-stereogenic compounds (patented and commercialised).
In 2005, he was appointed as the research officer in the group of Prof. Varinder Aggarwal. There he focused on the development of organosulfur catalysts and reagents for organic synthesis. In 2009, he was appointed as Course Manager of the Bristol Chemical Synthesis Centre for Doctoral Training.
In July 2012 he joined the UCD School of Chemistry & Chemical Biology as a Marie-Curie COFUND/SFI-funded Starting Investigator Research Grant Awardee and was subsequently appointed as a Lecturer in 2016. Eoghan was elected a fellow of the Institute of Chemistry of Ireland in 2015 and joined SSPC-Pharm5 as a Funded Investigator in 2019.
Expertise
- Organic Synthesis
- Organocatalysis
- Organosulfur and Organophosphorus chemistry
- Synthetic Carbohydrate Chemistry
- Asymmetric Catalysis
Publications