Sorry, no people found for this search.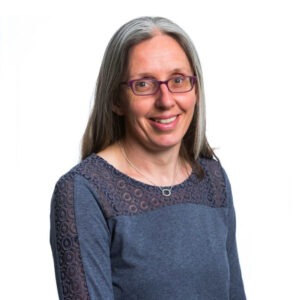 Prof. Sarah Hudson
Co-Principal Investigator & Materials Theme Leader
University of Limerick
Biography
Sarah studied Chemistry in Trinity College Dublin and did a research masters on the synthesis of a family of Re (I) metal complexes and a study of their photophysical properties with Prof John Kelly. Her PhD in the University of Limerick focussed on the immobilization of enzymes onto novel mesoporous supports and their catalytic properties with Prof Edmond Magner, Prof Kieran Hodnett and Dr Jakki Cooney.
She secured a Marie Curie Outgoing International Fellowship to work with Prof Robert Langer in MIT, USA. There she developed in situ crosslinkable hydrogel systems for cartilage regeneration and drug delivery and she also studied the biocompatibility (in vivo and in vitro) of micro- and nano- mesoporous silica particles. After this fellowship, Sarah worked in Waterford Institute of Technology on the identification of the mechanisms and causes of tablet splitting within the Genzyme Ireland facility. Since November 2011, Sarah has been a lecturer in Chemistry in the Department of Chemical Sciences and a researcher in the Bernal Institute in the University of Limerick.
Since graduating with her PhD in 2006, Sarah has secured over €6m in funding from EU, Exchequer and industrial funding. Most recently she is the lead PI from UL (a partner) in a Disruptive Technologies Innovation Award lead by Cala Medical which will bring €3.4m into the Bernal Institute in UL in 2019. This project will be based in the Biologicals Process Infrastructure Testbed, BioPoint. BioPoint was created and officially opened in 2018 from a Science Foundation Ireland (SFI) Infrastructure Award which Sarah also lead.
Sarah is also in the last year of her Career Development award which she was awarded from SFI in 2013. Sarah has been a funded investigator in the SSPC since 2013. Her research focuses on the manipulation of the physicochemical properties of small and large active molecules to improve their stability, solubility and dissolution rates with the ultimate goal of improving the bioavailability of active pharmaceutical ingredients.
Expertise
- Drug Delivery
- Biomaterials
- Crystallization processes
- Polymorphism
- Enzyme and peptide therapeutics
- Solution behaviour
- Solid form characterisation
- Api
- Nano particles
Publications