Sorry, no people found for this search.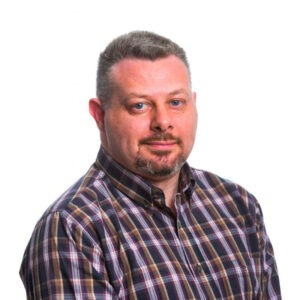 Dr Stuart Collins
Funded Investigator Molecule I
University College Cork
Biography
Stuart is Lecturer in Organic and Pharmaceutical Chemistry and the Director of the Chemistry of Pharmaceutical Compounds Degree Programme in UCC. He is a PI in the Analytical and Biological Chemistry Research Facility (ABCRF) and an FI in the Synthesis and Solid State Pharmaceutical Centre – PharM5 (SSPC-PharM5), an SFI funded collaboration involving academia and industry, while also being a member and collaborator in SSPC2 from 2013-present. Dr Stuart Collins received his BSc. Degree in Chemistry, U.C.C. in 1998 and then did his PhD. in Organic Chemistry at U.C.C. under the supervision of Prof. Anita Maguire entitled "alpha-Diazosulfoxides-Synthesis and Transformations to alpha-Oxo Sulfines."
He decided to follow an academic career path and worked on two Postdoctoral Research projects, the first on development of novel methodology for the synthesis of phosphononucleosides as antiviral agents (University College Cork and Tanaud Inc. Ireland) and the second on the asymmetric synthesis of unnatural amino acids (University College Cork and the Conway Institute University College Dublin.
Stuart played a key role in establishing the Flow Chemistry research group in UCC, through involvement with SSPC in 2013 and much of his current research is focused on organic synthetic methodology with an emphasis on continuous processing and flow chemistry. Recently Stuart played a key role as part of the group in the ABCRF that successfully secured the funding for the newly established (2017) Process Flow Spectroscopy (ProSpect) facility here in UCC, which offers state-of-the-art reaction analysis, allowing the direct observation of pharmaceutical process reactions as they occur. This facility was established through the SSPC and funded through the SFI Infrastructure programme.
Expertise
- Organic synthesis
- Flow chemistry and Continuous processing
- Enabling safe use of hazardous reagents through flow
- Immobilised catalysts in flow for asymmetric synthesis
- Biocatalysis
Publications