Sorry, no people found for this search.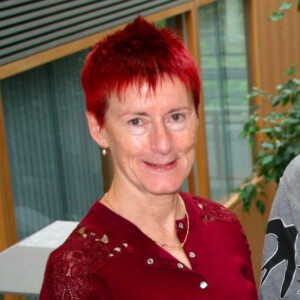 Prof. Caitriona O'Driscoll
Funded Investigator Medicine
University College Cork
Biography
Caitriona O'Driscoll is Professor and Chair of Pharmaceutics in the School of Pharmacy in UCC. She completed her PhD studies in Pharmaceutical Sciences in Trinity College Dublin (TCD) and undertook a sabbatical in the Department of Pharmaceutical Chemistry at the University of Kansas, USA. She was a senior lecturer in the School of Pharmacy at TCD prior to her appointment to UCC in 2003. She is a Board member of the Health Products Regulatory Authority, and the Critical Path Institute. She is a founding member and Chair of Regulatory Science Ireland.
Professor O'Driscoll's research interests are translational in nature and include formulation of nano-sized drug delivery constructs, which remain stable during processing and storage, and are safe and effective for use by patients. Candidate drugs include biopharmaceuticals, peptide/proteins, nucleic acids and poorly water-soluble compounds. Delivery systems of interest are; lipid-based vehicles and non-viral gene delivery systems employing modified cyclodextrins, nanoparticles and receptor-ligand mediated targeting.
Expertise
- Formulation
- Nano-sized drug delivery
- Biopharmaceuicals
- Peptide/proteins
- Nucleic acids
- Poorly water-soluble compounds
- Lipid-based vehicles
- Non-viral gene delivery systems
- Modified cyclodextrins
- Nanoparticles
- Receptor-ligand mediated targeting
Publications