The Campaign
The 'A Day in Life of a Scientist' Campaign employs Point Of View (POV) video to give an insight into the everyday lives of SSPC scientists and researchers. Utilising GoPros, our scientists captured their daily lives from morning until night. The core appeal of the campaign is creating a visual representation of scientists and the diversity in their everyday lives and work. In this way, the campaign breaks societal stereotypes of scientists.
Furthermore, the videos are highly accessible and social with a target audience on YouTube and associated social media. A key focus of the videos is on the balance between home and work life, how our pharma researchers collaborate with others and get to work in some of the most picturesque campuses and buildings around Ireland. In totality, the campaign consists of 6 videos co-created with our scientists.
Objectives
Target the public through social media and YouTube with accessible, lively and fun videos that show scientists as a whole rather than just focussing on in lab activity.
Target the public through a novel method of engagement.
Embrace entire SSPC community through diverse campaign participants.
Develop 6 video resources that can be utilised for many years and drive positive traffic toward Pharma and Science.
Innovation
The 'A Day in the Life…' style video is a popular watch on sites such as YouTube and TikTok. These GoPro videos have become even more mainstream with the use of a first-person perspective. The rugged cameras represent the standard in the space and have a burgeoning fanatic online community. Moreover, GoPros are easy to use, have a wealth of accessories and can record in a variety of video/audio formats. With this, the cameras could be placed anywhere and film anything. Throughout the campaign, they were mounted to bikes, used inside of research experiments and even in the shower! The POV perspective enables viewers to figuratively step into a person's shoes for a day. Previously, viewers had the option to experience the daily life of footballers, climbers or popstars, but never a scientist. We were 'first to market' in the space and certain hurdles had to be overcome. For example, we had responsibility to demonstrate a typical day of one of our scientists while maintaining authenticity and not feeding into stereotypes. As such, we needed the videos to demonstrate our scientist's morning routine, hobbies, commutes, and diet as well as interactions at work. To achieve this, the videos are divided into three segments, morning – work – after work with a one third split across the board. However, the vision was malleable to our scientists input given that they would be doing the filming.
In the background, we also embraced video typologies through an examination of successful videos on the YouTube platform. We took on board editing styles, structures, voiceover, music and segmentation. With this context, the videos are intentionally shot in a fast-paced manner, with zero narration. Hence, every sequence of film feeds into the next so that the story of the day is easy to follow.
In achieving this, we hosted multiple online planning meetings with our scientists to facilitate co-creation and peer learning. We taught them about storyboarding and gave them instructional materials including a campaign and participant guide (link in the next section). Filming was conducted in pairs and equipment was then sent via registered post to the next group (we were limited to online interactions as filming took place during the COVID-19 pandemic). Each pair took approximately 1 month to complete their filming with video being labelled through storyboards and uploaded into an online server for editing.
We also took an innovative approach in terms of promotion. We acknowledge that the videos are a non-traditional form of media and communications. Therefore, we decided to target online viewers and communities who would identify most with the videos. With this, we decided to use the Reddit platform to promote the videos. Reddit is a free online bulletin board with around 430 million users. The website allows posts of any content and can be filtered by groups called 'subreddits'. As part of our promotional campaign, we posted the videos to multiple subreddits including r/LadiesofScience, r/ScienceTeachers and r/goprodiy. Multiple videos gained traction from the platform with users 'upvoting' and spreading the content.
While this phase of the campaign is over, we are now engaging with Twinkl, the largest educational publishing house in the European Union (EU) to create school resources such as quizzes and puzzles to accompany the videos. With this, the videos can be used in primary school classrooms across the EU, and they do not require English as their first language.
Examples
Campaign Manual and Participant Guide – A Day in the Life of a Scientist.pdf
The videos can be viewed on YouTube using the links below:
Video 1 – Ketan Madane, University of Limerick
Video 2 – Maria Ferreira, Trinity College Dublin
Video 3 – John Downey, University College Cork
Video 4 – Siobhán O'Flaherty, Royal College of Surgeons
Video 5 – Aaron O'Sullivan, University of Limerick
Video 6 – Taylor Allen Coyle, Dublin City University
Outcomes & Results
Much of this campaign was frontloaded meaning that the preparation and training that took place before the filming was vital to attain our objectives. We also had to ensure that our participating scientists understood the objectives to achieve the type of video we were trying to create. It is our opinion that we have achieved our objectives set out above and the following will provide evidence in support of this claim.
In terms of views and engagements, the suite of videos has
14,056 views on YouTube
An average view time of 68 seconds
A watch time of 178 hours
Core to our success, was our first video going 'viral' and adsorbing the majority of views and then being part of YouTube's suggested links. Figure 2 below outlines the jump in views through online sharing. Figure 3 demonstrates how 36% of this traffic came from Reddit (106 upvotes on Reddit), while more traditional platforms also contributed to dissemination.
A key part of the dissemination of the videos is that they can be viewed by non-native speakers. This played a pivotal factor in our outcomes, geographically, Ireland is the only country that placed in the top ten of our viewership with countries such as Brazil, Vietnam and Mexico in our top 3.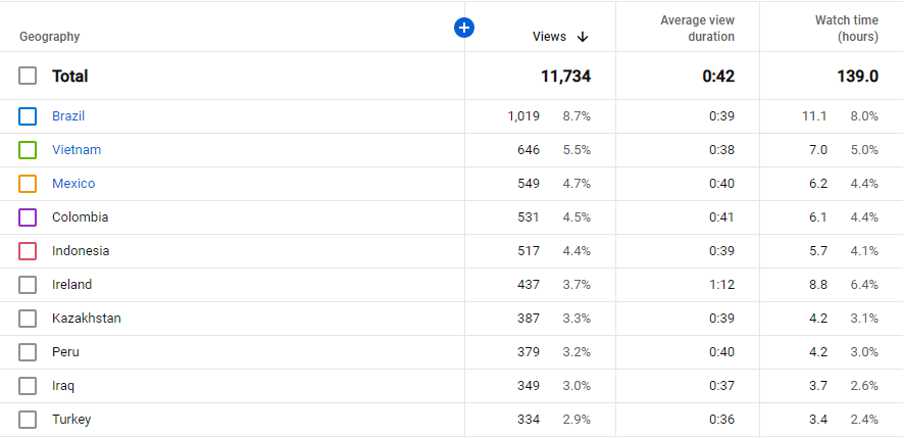 In terms of other media and analytics, we have had over 1,000 visits to the sspc.ie website to view the short videos. On Twitter the overall Impressions stands at 16,916 and overall engagements at 600. SSPC utilised Instagram reels, which secured over 1,600 views on this platform. On LinkedIn, each video had over 100 views.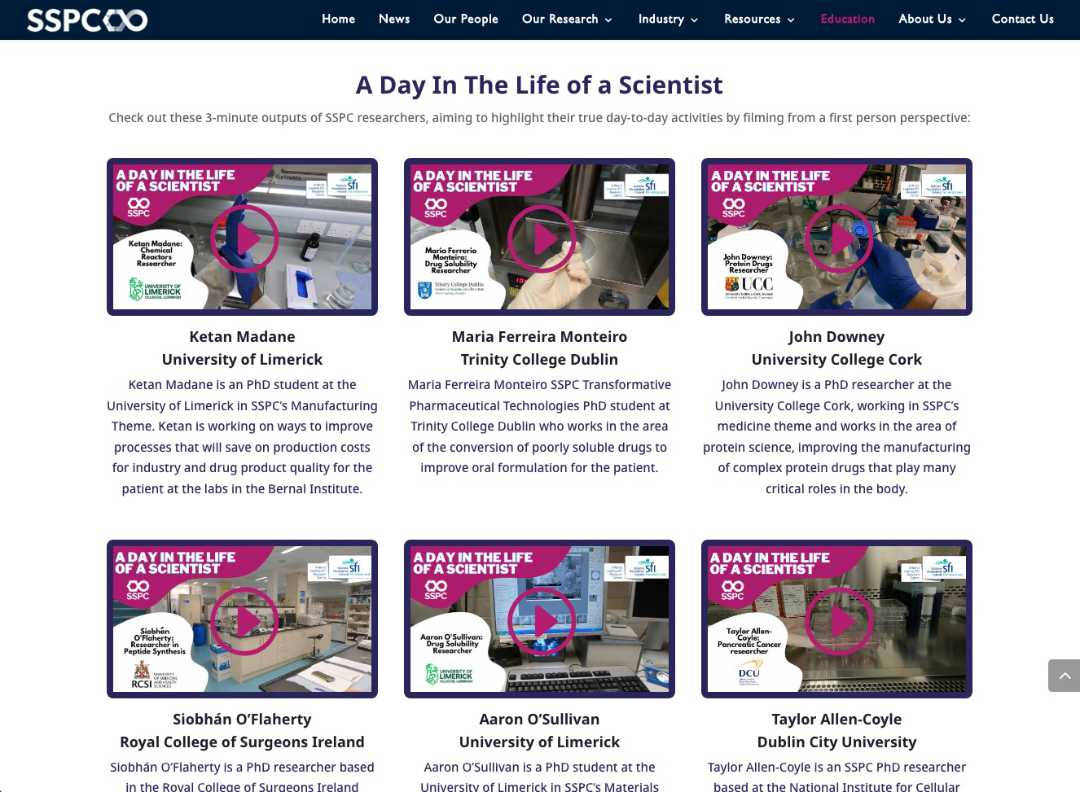 Finally, other indicators of success include our interactions with viewers and people who want to engage with the content. At present, SSPC has been invited to present the project at the Higher Education Authority (HEI) Communication Managers Network as an example project that could be followed by other types of scientists, not just pharma researchers. Moreover, the project has also been featured on the UL Engage website as part of compendium of projects designed to engage the local community with the University.