Ayat Elgammal is a PhD student in the School of Pharmacy at University College Cork (UCC). Her research is in the area of acceptability of paediatric oral formulations, in particular antibiotic formulations. Read more about her background and studies:
My Background
I am currently a PhD student in the School of Pharmacy at University College Cork (UCC), Ireland. I graduated from Faculty of Pharmacy, Mansoura University, Egypt in 2011 and worked for several years as a community pharmacist. I have lived in Cork since 2017. Having taken a career break to care for my family I returned to education in 2018, completing the UCC PG Cert in (Bio)Pharma Processing in 2019.  I really enjoyed this programme. While the course is aimed at preparing candidates for work in the pharmaceutical industry, the subjects and the experience of laboratory work made me realise that my interest lay in developing my research skills. Having completed the course, I worked as a volunteer research assistant in the School of Pharmacy, UCC for three months before registering as a PhD student in the School of Pharmacy under the supervision of Dr Margaret Bermingham and Prof. Abina Crean.
My Research
My PhD work involves identifying and describing the attributes that aid the acceptability of paediatric oral formulations, in particular antibiotic formulations. I believe this is a really important project as a pharmacist and as a parent. I have experienced the problem of children's adherence with oral liquid antibiotics first hand. There are a number of concerns relating to oral liquid medicines with poor palatability.
It is known that adherence with these formulations is low, and that poor palatability is a factor in this. Children often refuse oral liquid medicines with poor palatability, and parents/carers may be reluctant to administer such medicines to an ill child. Furthermore, prescribers may base their prescribing on palatability of a formulation rather than on the clinical guidelines. Therefore, poor palatability of paediatric oral liquid formulations can lead to disease under treatment because of inadequate or unsuccessful therapy. Poor adherence to oral liquid antibiotics is a key factor in antibiotic resistance, a concern of international prominence.
The first publication of my PhD has been published in the Journal of Family Practice ( https://lnkd.in/eqJCuzb3 ) in collaboration with Dr Joseph Ryan and Prof. Colin Bradley from the Department of General Practice, School of Medicine, UCC.
The project team has a collaboration work with Iwona Skibinska and Prof. Kieran Kilcawley from Food Quality and Sensory Science, Teagasc Food Research Centre, Fermoy, Ireland.  They are highly experienced in using advanced gas chromatography techniques and covering areas of aroma extraction, method development and validation, data processing and chemometrics.
The project is also supported by Margaret Shine and Dr Liz Sheehan of SRL Pharma Ltd., a UCC-based contract research organisation dedicated to sensory and consumer science. They provide the pharmaceutical and biotechnology industry sensory evaluation and consumer research, via trained human panels and clinical trials. For this project SRL have committed to provide their expertise and access to their human sensory panel.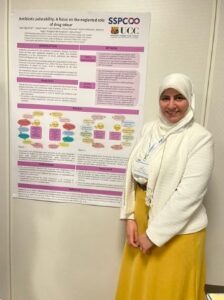 Awards
I have received the best poster award at SSPC's Medicine & Manufacturing Theme meeting.
I have been awarded the College of Medicine and Health doctoral student travel bursary to attend the PRIMM conference.
I have won the first-place prize in "My Research in a One Minute Video" competition at Bright Future event, College of Medicine and Health, UCC.