The SSPC Symposium is a highly anticipated event each year that brings together experts from various fields to foster collaboration and showcase scientific breakthroughs. With captivating keynote speeches and engaging discussions, this symposium serves as a platform for sharing valuable insights and advancing knowledge in the field.

One of the highlights of the symposium is the presentation of scientific outputs, where researchers have the opportunity to display their innovative work through presentations and poster sessions. This year a strong subject matter was sustainability and therapies. As the world faces numerous challenges in healthcare and environmental preservation, it is crucial to explore sustainable solutions that can address these issues effectively. Fighting antimicrobial resistance is a global challenge that requires collaborative efforts from scientists, healthcare professionals, and policymakers alike.
Our two distinguished speakers who delivered keynote addresses were Dr Magali Hickey, a renowned board member and Senior Vice President of Research and Development at Syntis Bio, shared her insights into the latest advancements in the field and the evolution of modified release formulations: challenges and opportunities for patient-centred real-world outcomes. We were honoured to have Professor Mark Lautens, a leading expert in Organic Chemistry from the University of Toronto, who enlightened us with his extensive knowledge and research findings. Both Magali and Mark brought unique perspectives from their fields captivating our audience to inspire meaningful discussions on advancements in science and technology.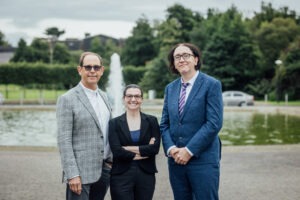 Prof. Mark Lautens, Magali Hickey with SSPC Director Prof. Damien Thompson. Pic. Brian Arthur
In addition to showcasing scientific achievements, the SSPC Symposium also recognises excellence through an awards ceremony. This prestigious event honours individuals who have made significant contributions in their space, and other relevant areas. By celebrating these achievements, the symposium inspires participants to strive for excellence in their own research endeavours.
The symposium creates an environment that fosters collaboration among professionals from academia, industry, and government agencies. Through interactive sessions and networking opportunities, attendees can engage in meaningful discussions that lead to potential collaborations and ground-breaking research initiatives.
This event is a gathering of like-minded individuals dedicated to advancing science and creating a sustainable future. By bringing together experts from different disciplines and recognizing outstanding achievements, this event paves the way for transformative discoveries that shape our world for years to come. A big thank to all who participated on the day, chaired sessions, presented posters and industry members who showcased their wares (MSD, Canty, Cadfem, Merck, Nano Temper, Technobis, Agilent and Kapaji).

The day finished off with a looking back perspective on how far SSPC has come in it's 15 years with a panel discussion featuring our first Director Prof. Kieran Hodnett, Dr Mary Shire, Director IOPS – Regeneron Pharmaceuticals, who supported and valued the cluster and centre, our two previous co-directors Prof. Mike Zaworotko and Prof. Gavin Walker, Science Advisory member, Dr Örn Almarsson, a Principal Investigator with us from the start Prof. Anita Maguire, UCC and our current director Prof. Damien Thompson with Dr Sarah Hayes, chairing the session.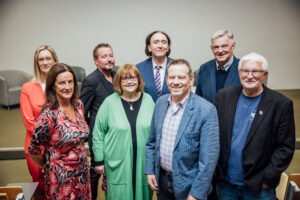 Thank you everybody for making this an event to be remembered.