This year the British Association for Crystal Growth joined The International Symposium on Industrial Crystallization for the Annual Conference 2023. Since 1969, the BACG has encouraged scientific and technological communications across national and international platforms, spanning theory and practice of crystal growth, crystallisation and appraisal of crystals.
With a strong presence from SSPC, this conference was always set to be an enriching experience for all attendees.
One of the highlights of this conference is the recognition received by young researchers who have demonstrated outstanding skills and innovation. This year three SSPC researchers based at the Bernal Institute at the University of Limerick, won first prize for their exceptional contributions, congratulations to all.
Mariana Diniz, won first prize in Crystals in Art competition with her image called Jack Frost. The picture displays a vial after a solubility experiment, in which a known amount of griseofulvin in acetonitrile solution was left to evaporate at room temperature. Upon solvent evaporation, the griseofulvin crystallised in a shape that resembles Jack Frost, the famous personification of frost, ice, snow, winter, and freezing cold. He is held responsible for frosty weather, and leaving fern-like patterns on cold windows in winter. Mariana is no stranger to winning such awards, last year she was the recipient of the SFI image of the year.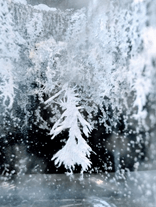 Vidit Tiwari was awarded first prize in BACG poster competition for his poster on Particle Breakage using Wet Mill, Ultrasonic and Hydrodynamic Cavitation. Vidit is a PhD in SSPC's Manufacturing theme. See Vidit's poster and abstract here
Vaishnavi Honavar was awarded first prize in CG&D poster competition for her poster on Antisolvent Crystallization of Carbamazepine Dihydrate using a Fluidic Oscillator. Vaishnavi is a PhD in SSPC's Manufacturing theme. See Vaishnavi's poster and abstract here
This conference not only provides a platform for established researchers to share their insights but also encourages young researchers to showcase their potential and contribute to the advancement of knowledge in the field of crystallization. It serves as an inspiration for aspiring scientists, fostering a culture of innovation and collaboration.
Well done to all for their poster presentations and insightful talks:
Sarah Guerin, SSPC Funded Investigator – presenting presenting her quest to make sustainable electronics through biomolecular crystals
Peuli Ghosh – presenting on her work with exploring the role of additives in stabilisation and carrier particle mediated isolation of nanoparticles at
Harsh Barua – presenting on exploring the role of non-classical nucleation for APIs
Mariana Diniz – Poster presentation
Marta Bergillos – Poster presentation
Vidit Timari – Poster presentation
Vaishnavi Honavar – Poster presentation
Sara Fatima – Poster presentation
Parimaladevi Palanisamy– Poster presentation